Can you see a company like yours on this page?
If not, just tell us what your company does, (using this form), and we'll let you know what experience we have in that market sector. Our expertise has been successfully applied in nearly every sector.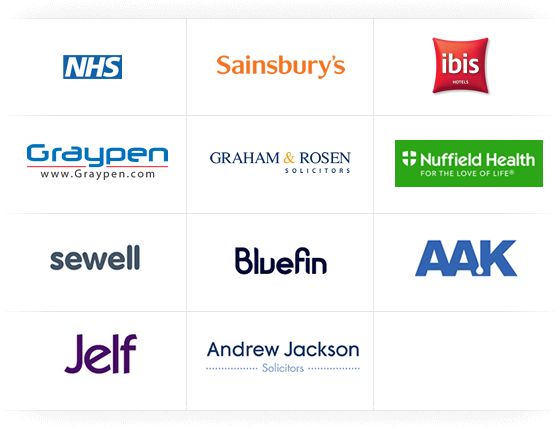 We don't work only with well known firms. Our clients include many small-to-medium-sized businesses and public sector organisations.

---
Testimonials and case studies from clients
Fay, Office Manager, Derede Associates

The NHS with us since the mid 1990's.
The issue
With an increasing and aging population, combined with challenging budget and space constraints, the NHS faces enormous challenges. As patient records mount up it became clear that to ensure data security AND create additional space for patient care, the NHS needed effective off-site document management.
Our answer – prompt delivery of confidential information
After an audit to fully understand what was required, when and how, we created a flexible document management strategy. This was based on collection, storage and delivery of confidential records, enabling the NHS to maximise space within their buildings and be assured of fast document retrieval.
We collect and store the records in an ISO 27001:2013 and NHS IG Toolkit audited and accredited facility and, to date, store over 30 million documents from a number of NHS sites across North & East Yorkshire, which we visit daily for pick up and delivery.
When one patient file was urgently requested it took just 20 minutes from request to delivery. Our document scanning means whatever the need, a file can be delivered speedily and will not incur an additional charge for an emergency or urgent retrieval.
What the NHS say about our work with them
Martin Whittle, Health Records Manager, NHS
What the NHS say about our work with them
"We have used Oughtred and Harrison as our off-site storage solution for over fifteen years. I can honestly state that in all that time we have had an excellent service and absolutely no cause for concern in the way our items have been stored, and then subsequently retrieved upon request."
Martin Whittle, Health Records Manager
Hull and East Yorkshire Hospitals NHS Trust

Graham & Rosen Solicitors with us since 2014
The issue
It became increasingly clear to this busy and expanding firm of solicitors that measures were need to be taken quickly in order to avert an information log jam that would impact on the delivery of their professional services.
Our answer – Swift start up to support our clients' services
We were called in at short notice and worked swiftly to take the pressure off the firm. Quickly in pocession of the boxed information, we indexed each file, giving them the ability to search files according to their clients' name and/or reference and also a sub-level indexing further allowing them to quickly find any correspondence or legal agreement associated with that client.
On indexing and scanning completion, the digital data was returned to them, ready to upload onto their own networked hard drive.
What Graham & Rosen say about our work with them
"We have been very happy with the work Oughtred & Harrison Group have carried out for us, arranging for the collection, preparation, scanning of documentation and return to us. From the start it has been easy to arrange and the work has been handled in a thoroughly professional manner."
Graham Beeston, Practise Manager
Graham & Rosen Solicitors
---
All Shapes, Sizes and Sectors
We have a wealth of experience working with both public and private organisations and businesses providing physical and digital document management in almost every major market sector.
Academic institutions
Charities
Consultancies
E-commerce entrepreneurs
Engineers
Financial professionals
Legal professionals
Medical teams
Manufacturers
Researchers
Utility companies
and many more…
From small to medium enterprises (SMEs) to multi-site multi-nationals around the UK – whatever you need for your business we will, more than likely, have experienced it before and know how to help.
We are always delighted to work with new sectors and will apply our considerable know-how to put in place the right strategy and support.
Free up your time and resources – talk to us today about how we can help you.
Get a Quote ❱