When the NHS, Sainsburys or Ibis Hotels need document storage, they come to us…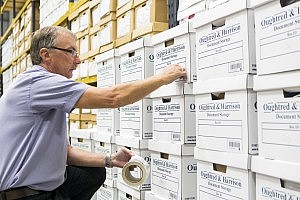 Every day, growing businesses are discovering how much easier it is to manage their documents with the benefits of high quality off-site document storage.
With our bespoke approach, infrastructure and know-how – partnering businesses including Nuffield Health – we can help you simplify and fully secure your document management, including document scanning and shredding.
We guarantee to save you time and increase your revenue within 3 months.
How? Because you will:
Spend more time earning money working for your customers and less time managing your paperwork
Increase your productivity by eliminating time hungry filing, locating and destruction of documents
Free up valuable office space – giving you options to enlarge your revenue generating team, your hardware or machinery
Enjoy peace of mind in the knowledge your data is secure and easily accessible
ARE YOU COUNTING THE COST OF POOR DOCUMENT STORAGE & RETRIEVAL?
Ask for your free, no obligation document storage quote.
Get a Quote ❱
Today, smart document storage and management is the "business efficiency secret" behind many well-known, successful businesses…
Risk free, personalized and guaranteed!
We always conduct a cost benefit analysis for your business that will show you all the benefits of our tailored service. Plus, you get a risk-free, no obligation return policy in the first three months as a guarantee.
Services designed just for you
It's our job to focus on your document storage so you don't have to. We know information is the lifeblood of any business or organisation and each one is different. So, you will never get a 'one-size-fits-all' service, that's why we're proud to say that many of our customers have been with us for more than 30 years.
ISO accredited for secure information systems
We are trusted by organisations of all sizes, as our information security systems are audited independently and ISO 27001 accredited – the industry standard.  We invest, maintain and incorporate the very best in security hardware so you don't have to.
People, just like you, give us amazing feedback on our service everyday
As part of our ISO 9001 accreditation, we regularly ask our clients to complete service evaluations and we conduct regular customer reviews. In a recent survey our customers rated us:
81% excellent
19% good
None came back as merely satisfactory or poor and
100% would recommend our services
TAKE ADVANTAGE OF OUR RISK FREE, GUARANTEED SERVICE
Ask for your free, no obligation document storage quote.
Get a Quote ❱
Don't just take our word for it – see what these well-known organisations are saying about our document storage service
Client Testimonial
"Throughout our relationship of over 20 years, we have always been provided with an excellent calibre of service on every level without exception."
Ian Boyd, Director
Graypen Limited
Client Testimonial
"We have used Oughtred & Harrison as our off-site storage solution for over 15 years. I can honestly state that in all we have had an excellent service & absolutely no cause for concern in the way our items have been stored, & then subsequently retrieved upon request."
Martin Whittle, Health Records Manager
Hull and East Yorkshire Hospitals NHS Trust
Client Testimonial
"We have been using the archiving services of Oughtred & Harrison for several years. In that time we have found them to be efficient, great value for money and they are always willing to go the extra mile. A local company who value their customers and are always looking for ways to improve the service they offer."
Andrew Alderson, Head of Property & Estates
Blue Insurance Services Limited
TAKE ADVANTAGE OF OUR RISK FREE, GUARANTEED SERVICE
Ask for your free, no obligation document storage quote.
Get a Quote ❱
You can trust us – a business with almost a century of expertise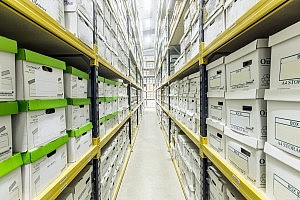 Backed by nearly 100 years of trading history and experience you can trust us to:
Store documents in a secure environment
Retrieve documents quickly
Collect your documents with minimal disruption to your business
Destroy your documents confidentially with confirmation of certificate
In an emergency we will do everything we can to deliver your document to you in minutes, at no extra charge or premium.
TAKE ADVANTAGE OF OUR RISK FREE, GUARANTEED SERVICE
Ask for your free, no obligation document storage quote.
Get a Quote ❱
When you have an important question, we will always give you a prompt and expert reply…
Are my documents and data secure?
We are ISO 27001:2013 accredited. Our processes and procedures have also been audited and approved by NHS Information Governance.
Any data digitally stored or transferred data is protected and encrypted in accordance with the FIPS 140-2 standard. Physical security measures include fencing, motion sensors, full security camera coverage, internal and external alarms and 24-hour security monitoring.
We operate a strict access control policy and carry out regular risk assessments to ensure we are industry leaders when protecting your information.
How quickly can I access my documents?
Call us before 1pm and you will have your document the same day, but your emergencies are ours and we will respond accordingly, sending you the document you need within an hour, if not in a matter of minutes.
How much more will I pay for emergency retrieval?
Nothing. That's right, we won't charge you a penny extra. Everything is charged at our standard retrieval rate, as we believe it's our job to be there when you need us most.
We have been providing logistical support to businesses for 95 years and we know how to look after you.
Is document storage cost effective?
Whether you are looking to reduce costs, consolidate or grow, outsourcing your document storage is a really cost effective answer. Not only will you create valuable space that can increase productivity, you are supporting your staff by letting them focus on core business activities.
We always undertake an audit of your existing processes and are confident we will improve your business, not only reducing your operating expenditure but helping increase your income and profits.
Risk free to you!

We have transformed the operational efficiency of many businesses just like yours.
Easy and risk free, we will collect your documents at no cost to you. If you do not benefit from our service within just 3 months we will return your documents with nothing to pay, and that's a promise.
TAKE ADVANTAGE OF OUR RISK FREE, GUARANTEED SERVICE
Ask for your free, no obligation document storage quote.
Get a Quote ❱