Why Choose Us?
We focus on trust, transparency and long-term relationships. We won't offer a service we cannot confidently provide and our mantra is to never let our clients down. We enjoy what we do and that means providing the very best service to you.
A family founded and operated business established in 1919 our core values have never altered. We are loyal to our suppliers, our dedicated team and always try to build in added value.
We may move paper but our business is built on people
A successfull business for nearly 100 years, we're delighted and proud to say that our clients are satisfied and always generous with their recommendation of our services. As a result, our business has grown through 100% referrals and we continue to expand.
Read some of our testimonials and case studies from the many businesses we work with.

---
Meet the team
Geoff Harrison, Company Director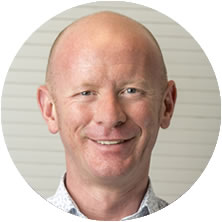 I will be delighted to talk to you if you are interested in us and I'll work out the best way for your organisation to take advantage of our services together with the strategy that will deliver them effectively. I like to keep in touch with all our clients and that includes regular reviews to ensure we understand needs and concerns. If, for any reason there is an issue, I will be on-hand to sort it out as swiftly as possible.
Where you'll find me
I work nationwide meeting and liaising with established, new and potential clients and suppliers. I attend conferences, ensuring I keep up-to-date with current thinking and regularly network with both clients and industry peers.
Why I enjoy my work
As part of the original Harrison family, it is an honour to be developing the business and helping to ensure that it not only remains one of the best-known companies in Hull, but also extends our reach further. I am passionate about building long-term partnerships and providing excellent service.
Away from work
In my spare time I can usually be found climbing up a mountain with my partner or walking, if our three dogs decide the weather is agreeable enough! If not climbing, I enjoy cycling and my regular commute on my road bike.
---
Carolyn Revell, Archival Administration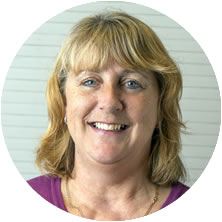 Responsible for managing all our client accounts, I am the one who is here to ensure we are looking after you and your best interests. I will discuss your service delivery, including collection, retrieval and delivery requests, scheduling scanning work and your shredding or confidential destruction work. Happy to talk as and when you need me, once your service agreement is in place I am your first point of contact for anything you may need.
Where you'll find me
I am based in our modern archival offices in Hull, East Yorkshire.
Why I enjoy my work

I like the company. It is a good business with old-fashioned principles around customer service and reliability. The company has been very loyal to me and has looked after me well.
What I do away from work

I love to watch Hull City and have supported them for many years. I also like to do a bit of gardening. We have breaks in the UK and I love to visit London for the pace and vibrancy of the capital.
---
James Smith, Director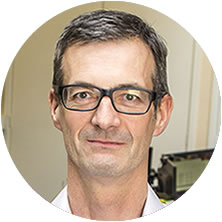 My work revolves around the implementation of your service agreement, specifically for your scanning requirements. From a thorough understanding of what you need I will design a technical solution that meets your requirements and supports your business. An IT specialist, my focus is also integration, as I ensure any document solution feeds into your existing IT infrastructure to help you make and improve organisational efficiencies and cost effectiveness.
Where you'll find me
Based at our main HQ in Hull, East Yorkshire, I also get out and about meeting current and prospective clients. I regularly visit technology seminars and training events to ensure we can offer the latest and best document management solutions.
What I do away from work
I enjoy walking, motorcycling and gardening. In terms of breaks, as a family we like to go camping. I also enjoy going to the gym and relaxing with a bit of Yoga.
Why I like working here
I like solving problems. When you do a good job for a customer and solve an issue for them to make their lives easier and more efficient, there is a great feeling of satisfaction. Oughtred and Harrison is also a good company. We all come here to do a good job and maintain the excellent reputation that underpins the company name.
---
Dave Bell, Account Manager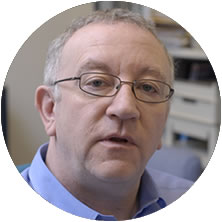 My role involves helping to design, implement and support your document management package. If and when your information is scanned my job is to make sure you can view it instantaneously and safely and I can answer your scanning and document management queries. I am also here to make sure we are delivering the very best service level we can for you and to answer your concerns and queries.
Where you'll find me
When not working in our offices in Hull, I am often found sitting with our clients, implementing new systems or checking the smooth running of current arrangements. I also go to see prospective clients and attend industry events.
Why I like working here
I enjoy working with our clients. I suppose I am a 'people person' and we have many long-standing clients who I now count as friends. For me, that's a good way to do business.
What I do away from work

I like to travel the world. My wife and I never visit the same place twice, as we like to experience new things and explore. I play guitar, both electric and classical and enjoy listening to rock music.
---
Rob Giblin, Warehouse Operative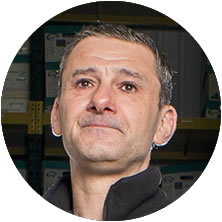 When you have requested some boxes to be collected, retrieved or delivered, Carolyn logs your request and sends it to me in the warehouse. My role is then to meet you at your premises to collect or deliver what you need. Unlike delivery companies, we will collect boxes from anywhere on your premises: as long as it is safe for us to do so!
Where you will find me
Based in our warehouse facilities, I also travel across the north of England and around the UK collecting and delivering boxes or files from our warehouse or collecting boxes of documents to be scanned.
Why I like working here
It's fair to say that no two days are the same here and I enjoy my delivery and collection role, as I get to visit clients and meet all kinds of people all the time. I enjoy representing the company and enjoy that social aspect of the job.
What I do away from work
I like reading, walking, cycling and socialising with my friends and family.
---
Phil Cockerel, Warehouse Operative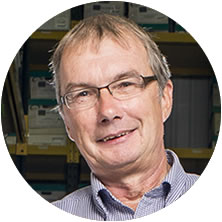 I look after the warehouse making sure everything is where is should be, which it always is of course! You may also see me driving around in our van making deliveries and collections to and from our clients.
Where you will find me
Mainly busy in our warehouse, if not there I can be found out on the road. I also support the administrative team at our Hull HQ.
Why I enjoy my work
You might have guessed that I like things well organised, I also enjoy getting out on the road and going to see our clients who have a need for the information we store on their behalf. It's a pleasant job, and meeting people is a great part.
What I do away from work

My wife and I have a motorhome and we love to have a break in the south of France. Big motor sport fans, we also love to watch the races. Besides travel, I am kept very busy by my grandchildren! 
---
Audra Wood, Group Accountant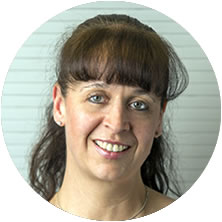 All about the numbers, if you have any invoicing, pricing or payment query then I am the person to talk to. No issue is too small and I'm always happy to chat through what you need and how best we can help.
Where you'll find me

I am based at our HQ in Hull, East Yorkshire.
Why I enjoy my work

Busy from the minute I walk in to the office, to the minute I leave at night – I love the variety of work I do and enjoy working for Oughtred & Harrison because it's a family run business with family values and very friendly staff.
What I do away from work

I love to shop! Enough said. I also enjoy spending time with family and keeping in touch with friends. With work and socialising, I'm usually exhausted by the end of the week!
---
Our history
The Oughtred & Harrison Group
Today, run by a fourth generation Harrison, our business was founded by MD Geoff Harrison's Great Grandfather Herbert Harrison and his friend Norbert Oughtred in 1919. Both shipping brokers, Herbert and Norbert established a goods import business. Naturally, being enterprising, warehouses followed in the 1930s and, as Europe was drawn into the Second World War, Government contracts were signed to store food and other essentials in support of the war effort. Heavily bombed, our Hull based business had to relocate twice to keep trading.
After the Second World War ended we continued to support the UK Government storing essentials to keep public infrastructure operational during the Cold War, should Russia decided to push the nuclear button. Insurance brokerage and travel also emerge as part of the business.
During the 60s and into the 70s, with the port of Hull in decline, Life Assurance and Pensions divisions were created to join our busy Shipping and Insurance services.
During the 80s and culminating with the fall of the Berlin Wall, the Cold War ended and the UK Government no longer felt the need to stockpile supplies. Now, with warehouses to fill we looked about for an enterprising alternative – our document storage began and an IT division was also added to the thriving Oughtred & Harrison Group.
Gradually, we established a more holistic document management system complete with ISO accreditation and ICO registration. Always moving with the times we continue to grow and improve, providing digital solutions, as well as paper storage, delivery and destruction.