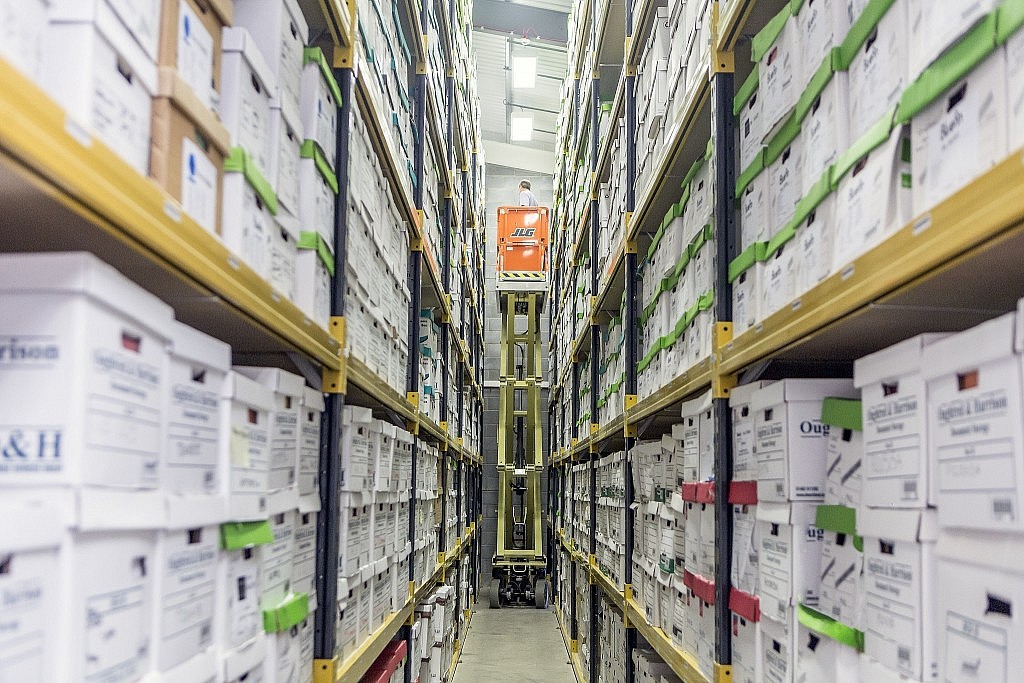 From improving productivity and worker output to enhancing a company's reputation, there are many reasons that a document storage system is a smart investment. To find out how document storage can benefit your business, read on.
Remember: smart storage is smart business.
1. Improve Productivity
The top reason to seek document storage services is productivity. Too many businesses lose valuable company time as employees spend more time looking for a file than doing their jobs. Rather than send employees or go out yourself to sift through stacks of files, it's smarter and more effective to try a document storage system. Time-efficiency is a key factor in productivity, so use the time wisely, and store documents more efficiently.
2. Save Money by Making Efficient Use of Employee Time
Employees, particularly wage-earning employees, are paid for their time, meaning that any time not spent doing actual work, and instead wasted on searching for a file, is more money being thrown down the drain. Improve productivity and save money by paying employees to do the jobs they were hired to do and not paying them to take time away from work to look for a file.
3. Save Money by Freeing Up Space
Somewhere in an office building right now, there's a storage room packed to the rafters with files, collecting dust and waiting for the next victim who dares to enter the dreaded storage room in search of a document. It's an unfortunate and inefficient system that many businesses have been trying to do away with for years with methods like going paperless, but as any smart businessperson knows, hardcopies are still necessary. Rather than designate entire rooms just for storing documents, or lease a larger building just to ensure there is enough space, it is more efficient and more cost-effective to use a document storage system paired with a convenient scanning solution for secure backup and quick accessibility.
4. Optimize File Organization
Did you know that there is an estimated 7% of documents lost annually, and another 3% misfiled? Of course, everyone makes mistakes, so losing a file or misplacing it might be an expected part of business operations. But there is always the chance that the lost or misplaced file could cost the company money or a contract with a valuable client. Rather than take that chance, opt for a document storage system, where the company's specialty is in organizing and storing files.
5. De-Clutter the Office
Whether they're in someone's office, the hallway, lobby, or break room, stacks of boxes are not a pleasing sight, and it's hard to say if there is an interior decorator who could make filing cabinets and document boxes look any better. Unfortunately, for businesses lacking space, stowing documents out in the open is sometimes the only option. Rather than clutter the office space and bring down the appearance of the office, it is better to let a document storage system deal with the clutter for you. A more organized office also boosts the impression that a company makes on customers, which in turn improves the company's reputation.
6. Protect Confidential and High-Security Files
It's not always possible to store files with confidential or sensitive information in areas that are safe from prying eyes. Many companies simply don't have the room to designate one storage room for confidential files and another storage room for files that can be organized and accessed by the entire rest of the office. To improve the security of confidential files or files with sensitive information, one can always trust a document storage system, where all files are kept under lock and key.
7. Speedy Document Locator
Another aspect of saving you time and money, a document storage system enables you to quickly locate documents for those times when the delivery of a file is urgent and time-sensitive. In the past, we have helped businesses with our speedy document location services by delivering an urgently requested document to the company within an hour of notification.
8. Easier to Transition from Paper to Paperless
By using a document storage system, it is easier to facilitate a transition from paper to paperless. Businesses will always require hardcopies as back-up records, but by using a document storage system, it is possible to not only save space, but also to have the documents scanned for upload, retrieval, editing and usage on an online platform. Ask about our document storage and scanning services for more information.
Have you had issues?
Have you, or your business been affected by any issues mentioned in this post? If so, feel free to leave a comment below.
If you enjoyed this article then feel free to share it using the social media buttons at the top.